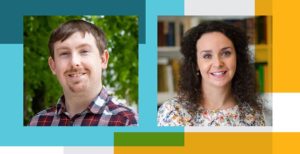 Dublin City University has welcomed today's announcement by the Irish Research Council that two researchers at the National Anti-Bullying Research and Resource Centre have been awarded grants in the New Foundations scheme.
Dr. Seline Keating, Assistant Professor in SPHE and Wellbeing in DCU's Institute of Education and a Research Fellow at the National Anti-Bullying Centre, received a grant for 'Exploring the Frixos Sexuality Programme and its relevance to the Irish RSE primary school context'.
Frixos is an award-winning sexuality education programme based on active and experiential learning methods suitable for primary school aged children in Ireland. Dr. Keating will exchange ideas with its creators and look at how it might positively impact the current Relationships and Sexuality Education (including sexuality-based bullying) review in Ireland and assist in the next phase of developing classroom materials and teacher training.
Derek Laffan, Research Assistant at the National Anti-Bullying Centre, was awarded funding for his project Tweets, Posts and Persecution: Online social networking among Palestinians and its influence on Palestinian identity and wellbeing.
Palestinians have embraced social media in recent years to express and promote their identity to the world as a resistance to the ongoing occupation. There has also been a strategic effort to demonise, disregard and delegitimize the Palestinian identity online which has led to Palestinians experiencing censorship and physical persecution related to their social media activities. This research study aims to identify what types of social media behaviours are related to persecution, and how social media has influenced Palestinian identity and wellbeing in recent years.
The New Foundations scheme provides support for research actions, the development of networks and consortia, conference and workshop development, and creative approaches to the communication of scientific concepts and/or complex societal challenges for a lay audience. This year, the scheme awarded grants under four strands: Engaging Civic Society; Knowledge Exchange for impact; STEAM; In partnership with the DFAR Networking & Collaboration Grants for prospective North-South Research Partnerships.
– Ends –