Launch of an online platform seeking language examples of harmful online language experienced by children. www.kidsonlinesafetyresearch.ie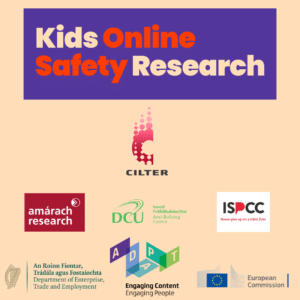 New data from Amárach Research reveals that over 70% of 5–8-year-olds have access to a smartphone, and that 80% of children aged 11+ have significant amounts of unsupervised internet time, including in their bedrooms.
An online platform which requests anonymous submissions from parents/guardians of examples of harmful online language experienced by children was launched today by Amárach Research, Cilter, the DCU Anti-Bullying Centre, and SFI (Science Foundation Ireland) funded ADAPT centre ("the Consortium"). The submissions will be used to inform a new cutting-edge parental control technology for smartphones. This technology will sit in the operating systems of smartphones, and will prevent children being exposed to cyber-bullying, grooming, and self-harm content, as well as alerting parents/guardians if their child is attempting to send or receive this content. The data gathered in this survey will be the world's first repository of harmful verbatim private language that children experience.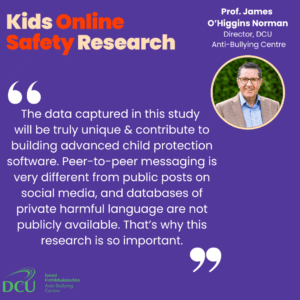 As technology becomes increasingly integrated in society and children spend more time online, the requirement for increasing safeguards is clear. However, as revealed in new Amárach research, it's clear that parents do not feel equipped to protect their children online; 82% of parents surveyed expressed interest in the Cilter solution, with 72% willing to get involved in this research project.
The newly released research, which was carried out by Amárach on behalf of Cilter, also shows that over 70% of 5- 8-year-olds (Junior Infants to 2nd Class children) have access to a smartphone. This follows the recent report by Cyber Safe Kids (CSK) which indicated that 93% of 8–12-year-olds own a personal smart device, and 100% of 12–16-year-olds do.
The Amárach research also demonstrates sharp increases in social media/messaging usage among children as they start secondary school, coupled with parental supervision of internet use dropping significantly at this time – over 80% of parents of children with smartphones aged 11+ say that their child's internet access is only sometimes or never supervised. Children are also spending significant time using smartphones in their bedrooms.
When considered alongside recent data this paints a clear picture of the vulnerability of children online. Recent CSK data showed that 84% of 12-year-olds have their own social media/messaging account, and National Society for the Prevention of Cruelty to Children figures also show the prevalence of platforms like TikTok, Snapchat and Instagram involved in instances of child-sexual grooming (73%). The Australian e- safety commissioner recently revealed that 16% of self-generated child sexual abuse material was created in children's bedrooms.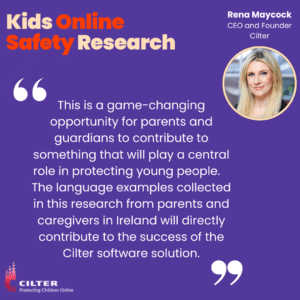 Submissions can be made at www.kidsonlinesafetyresearch.ie. This is an adult-only invite to contribute. It's a text only submission – no images to be uploaded. All data entered will be completely anonymous and not traceable to a parent, caregiver, or child.
The consortium has received funding for this consultation from the Disruptive Technology Innovation Fund (DTIF). The (DTIF) is a €500 million Challenge-based fund established under Project Ireland 2040. It is one of four funds set up under the National Development Plan (NDP) 2018-2027. It is managed by the Department of Enterprise, Trade and Employment and administered by Enterprise Ireland.