How to respond effectively to bullying and cyberbullying: The whole-education approach
International research suggests that successful initiatives aimed at tackling school bullying and cyberbullying are delivered as part of a whole-school approach. However, these whole-school based initiatives have been limited in their success because they have failed to recognise that the local school exists within a wider education system and community that is supported and maintained by society.
Consequently, the Scientific Committee proposes that an effective response to bullying and cyberbullying should be described as a "whole-education approach". A whole-education approach ensures that local school initiatives recognise the importance of the interconnectedness of the school with the wider community including education, technological and societal systems, values and pressures, all of which can impact on the prevalence and type of bullying and cyberbullying that occurs in a school.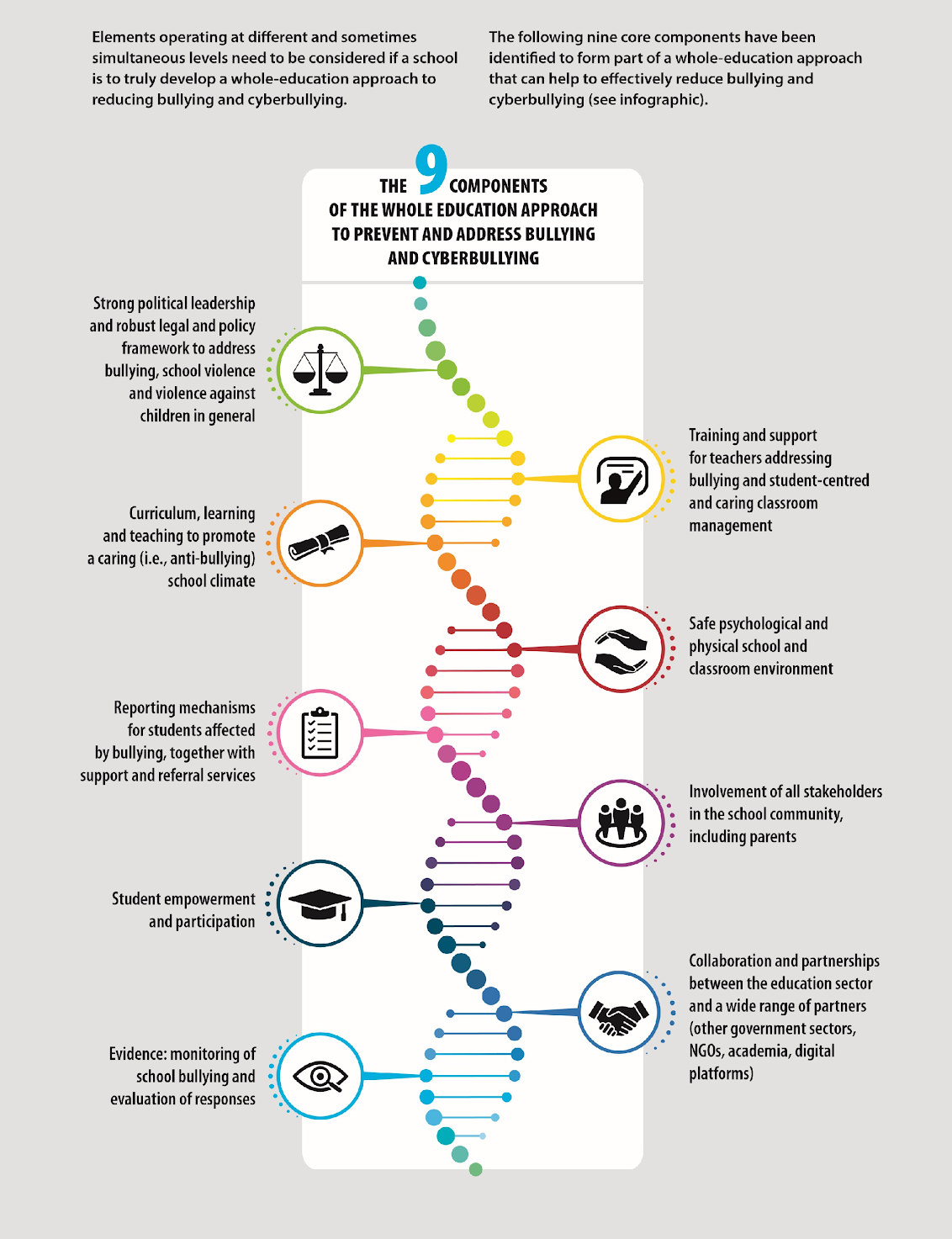 Characteristics of the whole-education approach
This whole-education approach to reducing violence and bullying in schools including cyberbullying is holistic as it provides a comprehensive and systemic framework including legal and policy influence that are beyond a whole-school approach. This approach to reducing bullying contributes to the pursuit of the Sustainable Development Goals (SDGs), in particular SDG4, which aims to ensure inclusive and equitable quality education, and SDG16, which aims to promote peaceful and inclusive societies. By proposing this broader approach to school bullying, the education system can be even more inclusive and sustainable for the future.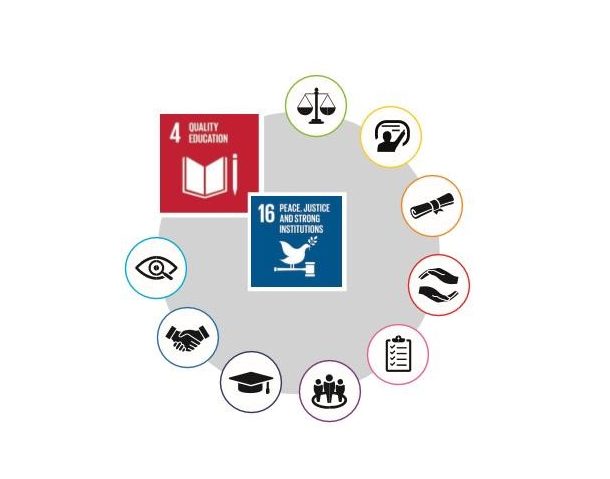 The Scientific Committee recognizes the following pre-requisites that ensure that the whole-education approach to bullying and cyberbullying has a wide national coverage, is sustainable, inclusive and benefits all children, and is comprehensively implemented across the entire school system.
Each of the nine components is important and necessary but not sufficient alone. These should be considered as integrated elements of the whole-education approach. A coherent combination of these nine components will enhance the long-term effectiveness of responses to bullying. In summary, the 9 core components of a whole-education approach are not a menu (or 'shopping list') from which only some aspects can be selected to reduce bullying.
It is necessary to plan and implement well-coordinated systematic actions that are sustainable. Once-off measures are not effective.
This places a greater emphasis on the significance of the whole system of education underlying the commitment not only to help students involved in bullying (perpetrators and targets alike) but to make the entire education system better equipped to reduce violence, bullying, and cyberbullying among learners.
National or sub-national education authorities should design programmes that can be effectively implemented in all schools and across the network of relationships attached to schools.
Education authorities should support schools, with the implementation of bullying prevention programmes with guidance and resources.
Children and young people need to be centrally involved in designing, implementing and evaluating the nine components of the whole-education approach. Schools exist for children and young people and need to be involved in an age-appropriate manner to develop and implement the whole-education approach.
A whole-education approach, along with addressing directly bullying, should also explicitly promote positive, respectful and caring interactions.
Colm Canning
Education Project Coordinator Dublin City University