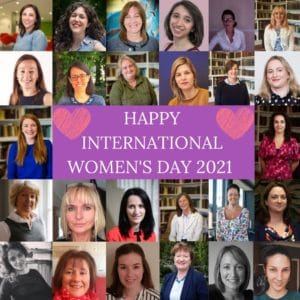 Meet all the wonderful women of ABC. Today is International Women's Day and ABC is celebrating all of the amazing women who are part of our team at the Centre. #InternationalWomenDay2021.
International Women's day
Why it's so important in the battle for equality.
Workplace bullying: In a recent ABC report, it was found that women are less likely to be the alleged perpetrator of bullying (20.7%) as compared to men (49.4%). However, a slightly higher percentage of men submitted a complaint to the Workplace Relations Commission (57.5%) as compared to women (42.5%). International literature might help to explain this finding. According to international study findings, men and women adopt distinct coping strategies when dealing with bullying; that is, women use more avoidance strategies (e.g., sick leave, request for transfer, ignoring), whereas men tend to use more active coping strategies (e.g., confront the perpetrator).
For more details on the above see: https://antibullyingcentre.b-cdn.net/wp-content/uploads/2020/10/Bullying-in-the-Workplace-Report-FV.pdf
Workplace Bullying: Overall, the international literature suggests that women are more likely to be the target of bullying at work, even though with regional differences– See here: https://link.springer.com/referenceworkentry/10.1007%2F978-981-13-0218-3_12
Findings for gender differences in relation to school bullying and cyberbullying are inconclusive (too many contrasting findings).
Dating Violence: A recent meta-analysis found that bullying victimisation was related to dating violence victimization – this association was stronger for girls (in other words, girls who are the target of bullying are also likely to be the target of dating violence). The authors concluded that bullying and dating violence could be different behavioural manifestations – in different evolutionary moments and in different contexts – of the same underlying antisocial dispositions, although longitudinal studies are needed to confirm this. See here: https://journals.sagepub.com/doi/full/10.1177/1524838019854460?casa_token=TT9aN_GqFKYAAAAA%3A7tQVeeFi4J91uAU6zxy_Y6GdfbXZG0p-l9fn1VnxtTli5hAyT_Wdb7bf0Sw5SNjv5JmLhhyYwJh8
Law Profession: Half of women report experiences of workplace bullying in the Law profession and one third of women report experiences of sexual harassment in the Law profession. See here for more details: https://www.ibanet.org/bullying-and-sexualharassment.aspx and here: https://www.lawsociety.ie/gazette/in-depth/bullying-in-the-workplace/
Sexting among teenagers: A recent study conducted with a sample of Irish teenagers aged 15-18 showed that girls are more likely to 1) having been asked to send naked pictures of themselves; 2) having been sent unwanted sexually explicit images. For more details see here: https://www.sciencedirect.com/science/article/pii/S074756322030409X
Sexting among teenagers: International literature shows that girls are expected to send sexual images of themselves, but at the same time, double sexual standards are applied to boys and girls; that is, girls might be labelled as "sluts" when they send sexual images of themselves and risk to lose their reputation. See here: https://journals.sagepub.com/doi/10.1177/1464700113499853 and here: https://www.tandfonline.com/doi/full/10.1080/09589236.2018.1560245
Gender Violence in Ireland during the pandemic: In April/May 2020, Gardai reported a 25% increase in domestic violence calls compared to April/May 2019. See here: https://data.oireachtas.ie/ie/oireachtas/libraryResearch/2020/2020-06-09_l-rs-note-domestic-violence-and-covid-19-in-ireland_en.pdf
Gender violence during the pandemic: Globally, 30% of women experience physical or sexual violence by an intimate partner in their lifetime. Such violence can increase during humanitarian crises, including conflict and natural disasters. In this respect, recent research shows that violence against women increased during the pandemic. See here: https://www.bmj.com/content/369/bmj.m1712.full
Gender violence during the pandemic: A UK project tracking violence against women noted that deaths from domestic abuse between 23 March and 12 April had more than doubled (to 16 deaths) compared with the average rate in the previous 10 years. https://www.theguardian.com/society/2020/apr/15/domestic-abuse-killings-more-than-double-amid-covid-19-lockdown
Pandemic and Gender Violence: Recent literature reviews show that there has been an alarming rise in the incidents of gender-based violence during the COVID-19 pandemic. This raises serious concern about the safety of women. An important issue outlined in the review is that more women than men might be in informal jobs and could have been fired during the health crisis, which leads them to economically depend on their male counterparts. Even though a drop in helpline calls might be registered, this could be due to the fact that it is easier for the abusers to enforce control tactics by limiting the access of the victims to phones, internet, and other people. See here for more info: https://www.frontiersin.org/articles/10.3389/fgwh.2020.00004/full?utm_source=CAL+Newsletter&utm_campaign=345c81cfbd-EMAIL_CAMPAIGN_2018_12_14_10_26_COPY_01&utm_medium=email&utm_term=0_1be789435a-345c81cfbd-
Gender Violence: According to recent data collected by the United Nations, 243 million women and girls between the ages of 15 and 49 worldwide were subjected to sexual or physical violence by an intimate partner in the last twelve months. Actually, it's unclear when they collected the data, but I think that the report was published at the beginning of last year and that the data refer to the pre-pandemic.
See here: https://www.unwomen.org/-/media/headquarters/attachments/sections/library/publications/2020/issue-brief-covid-19-and-ending-violence-against-women-and-girls-en.pdf?la=en&vs=5006
Online Gender Violence during the Pandemic: See here: https://www.unwomen.org/-/media/headquarters/attachments/sections/library/publications/2020/brief-online-and-ict-facilitated-violence-against-women-and-girls-during-covid-19-infographic-en.pdf?la=en&vs=2520
Here you can find more reports from the UN: https://www.unwomen.org/en/digital-library/publications/2020/04/series-evaw-covid-19-briefs
Body Shaming: Girls are more likely to experience online body shaming (they are told that they are fat) as compared to boys. See here: https://www.sciencedirect.com/science/article/pii/S1740144514000941?casa_token=3-OCiXKRWBkAAAAA:oRM1ORSN7o3f-sxhWZ6PoHFkn3V3yCzgdVYkxs7-Tu14oMWOiJf-f-txwyZOOLcJf2PGAz2x
Recent newspapers article that might be of interest: