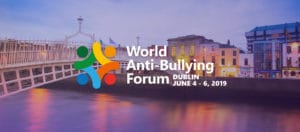 The National Anti-Bullying Centre (ABC) is the host for the World Anti-Bullying Forum 2019 in Dublin City University which takes place next week. Many of ABC's staff and students will be presenting their latest research work and contributions to national and international anti-bullying policy.
Some of the world's most renowned anti-bullying researchers and practitioners will be attending, presenting and working at the conference, which is a once in a lifetime event for Dublin to be the host city.
Aside from academic contributions, several industry and organisational sessions by the likes of Facebook, Vodafone, Webwise, Bulldog Solutions, McAfee, Comhairle na nÓg and UNESCO will also deliver their input into how they tackle bullying and promote online safety within their industries.
In terms of specific topics, there will be a wide range of research areas presented including: school bullying, cyberbullying, sexting, peer and sibling bullying, bystanders, interventions, harassment, policy evaluation, among many others. See the full conference programme here for more detail on the specific talks and presentations.
The conference will be using the hashtag #WABF2019 for Twitter and updating the progress of the event on social media. Currently the conference organizers are trying to reach out to more people who would be interested in volunteering. Volunteers can apply here if they are interested, and will have access to the conference talks and lunches.
As hosts, we are excited to meet everyone and welcome everyone to Dublin!