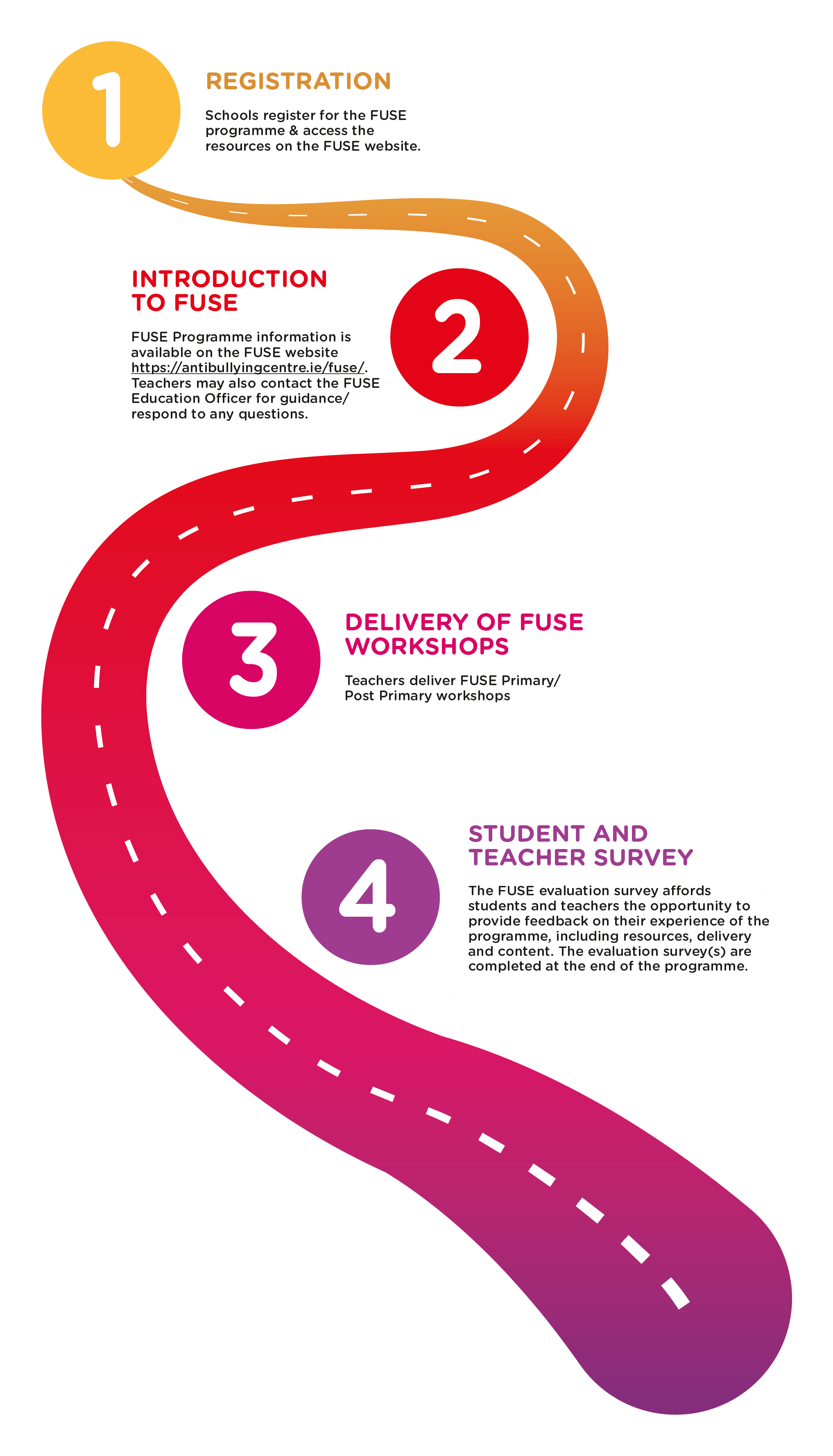 FUSE contains workshops covering topics on Bullying and Online Safety, which are developed based on current research. These workshops are classroom based and delivered by a FUSE teacher. All workshops contain PowerPoints, Teachers Notes, Videos and Activity Sheets, to make delivery as efficient as possible.
In order to use the FUSE programme effectively, we have designed workshops to be compulsory, recommended and optional. Each workshop is tagged in the overview indicating the category it fits into.
COMPULSORY
Four workshops which must be completed for successful participation in FUSE.
RECOMMENDED
Workshops on recommended topics, based on your school's needs.
OPTIONAL
Workshops on "Hot Topics" which have been developed based on the most up-to-date research.
WORKSHOP 1
Noticing Bullying!
WORKSHOP 2
Bullying: Respond, Don't React!
WORKSHOP 3
Tackle Bullying Together!
WORKSHOP 4
Report Bullying!
WORKSHOP 1
Bullying and the Importance of Noticing
WORKSHOP 2
Cyberbullying and the Importance of Noticing
WORKSHOP 8
Online Safety – Privacy and Sharing Online
WORKSHOP 9
Online Safety – Cybersecurity Awareness
The RECOMMENDED and OPTIONAL workshops should be delivered at the teacher's discretion, based on student/school needs.
A FUSE Education Officer can advise you on choosing appropriate additional workshops. We acknowledge that some schools may have limited capacity or the need to deliver additional workshops. Similarly, individual schools may not have a requirement to deliver some or all of the additional workshop topics offered. Schools should review the workshop overviews in the FUSE Handbook in advance of commencing the programme and decide which additional workshops (if any) they will deliver.